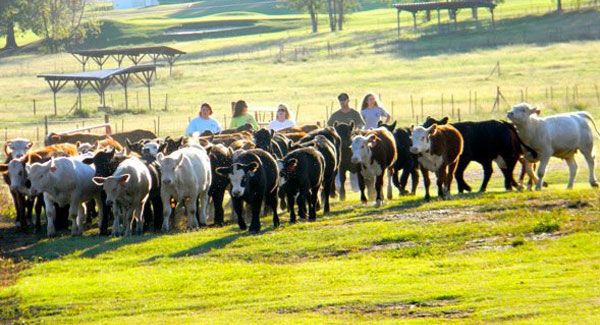 Student Organizations
---
Activities
Welcome Back Picnic
The ADS Department hosts a welcome back picnic in the fall to welcome both returning students and new students. Students get a chance to catch-up with each other, interact with faculty, meet new club officers, and enjoy a meal right off the grill.
Ag Olympics
An event in the fall organized by our student clubs where teams compete in ag-related events such as hay bale stacking, potato sack races, and obstacle courses. Proceeds go towards charitable organizations our clubs support such as Heifer International.
Academic Quadrathlon
School across the region send a team of students to compete in a regional Animal Science Academic Quadrathlon. Teams compete in four events: lab practical, written exam, oral presentation, and quiz bowl for a chance at winning the event.
Clubs and Organizations
Block and Bridle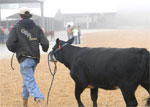 This club operates as part of a national organization open to all college students interested in agriculture. Club members promote agriculture and build friendships through multiple livestock, social, and community service events.
Visit the Block and Bridle Web Site
Collegiate Cattlemen's Club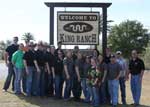 This association is directly affiliated with the Mississippi Cattlemen's Association and is open to all students with an interest in cattle or beef.
Contact Dr. Trent Smith
Dairy Science Club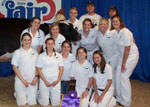 This club is open to students of any major that have an interest in dairy cattle or the dairy industry. Activities include local service projects, milkshake fund raisers, participation in North American Intercollegiate Dairy Challenge, membership in American Dairy Science-Student Affiliate Division (ADSA-SAD) and participation in those meetings at the regional and national level.
Visit the Dairy Science Club Web Site
Horseman's Association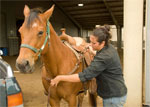 Open to students of any major, this club is for students with an interest in horses or the horse industry. Activities include an annual AQHA show, speakers from the horse industry, English & Western riding clinics, trail rides and National Horseman's Association Meetings.
Contact Molly Nicodemus
Horse Judging Team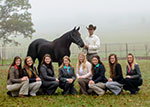 The MSU Horse Judging Team is a collection of highly driven students who seek to become accomplished horse judges while in the collegiate setting. Team members develop their abilities to precisely evaluate horses in the competitive realm, as well as furthering skills in organization, public speaking, and critical thinking. Four horse judging competitions highlight each year, opening with the Spring Intercollegiate Sweepstakes in Fort Worth, TX. Later in the year we compete in the following AQHA Congress in Columbus, OH, AQHA World Show in Oklahome City, OK, and the National Cutting Horse Association Futurity in Forth Worth, TX.
Visit us on Facebook
Livestock Judging Team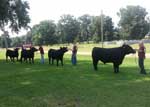 This is a competitive livestock judging team that travels the country's most prestigious livestock shows and judging contests and visits premier farms and ranches across the country. Members develop a network with the nation's leaders in livestock production and forge life-long friendships and the ability to work extensively with others. Students develop the ability to make quick decisions and defend them with logic and also polish their public speaking skills. Clearly, team-members gain an in-depth understanding of the livestock industry and hone skills that prepare them to make a positive impact on its efficiency.
Contact Brett A. Crow
Mississippi State Eventing Team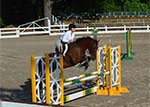 The Mississippi State Eventing Team was founded in the fall of 2014 and quickly started growing and gaining recognition. The team competes in numerous team challenges throughout the year as well as individually on any given weekend. Our goals as a team are to help the Eventing community of Mississippi grow at the grassroots level and to help those on the team achieve their individual riding goals.
Visit the Mississippi State Eventing Team website
MSU Equestrian Team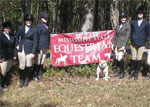 This group is comprised of both English and Western riders. Team positions are available to students of any major and skill level that have an interest in riding. Annually there are seven intercollegiate competitions held in the region.
Contact Ashley Shiffler
MSU Rodeo Team
This very active team is self supported and travels to ten NIRA rodeos each year. Team practices are held in the spacious Mississippi Horsepark. Membership is open to all students with an interest in rodeo.
Visit us on Facebook
Pre-Vet Club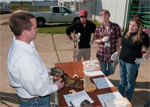 Students looking for exposure to all aspects of veterinary medicine will want to join this club. Students learn the procedures to apply for admission to Vet School and participate in various fund raising events and social activities such as bowling and a trip to the national pre-veterinary student meeting.
Visit the Web Site
Minorities in Agriculture, Natural Resources, and Related Sciences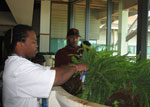 MANNRS promotes the inclusion of ethnic and cultural groups that are under-represented in agricultural and natural resources and related fields in all phases of career preparation and participation.
Visit the Web Site
CALS Ambassadors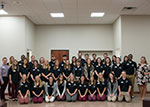 The CALS Ambassadors are a select group of students representing all departments within the college. Some examples of activities that Ambassadors participate in include the CALS Alumni Breakfast, on campus recruiting events, and CALS day.
Contact Allison North for more information.